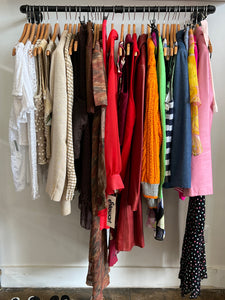 With our Style Bundles, each piece is carefully selected to suit your size, needs, and unique style. This bundle is a delightful mix of classic pieces and trendy finds, meticulously chosen to enhance your wardrobe. With each item carefully curated, you can embrace sustainable fashion while expressing your individuality. 
I do my absolute best to ensure that every item is thoroughly cleaned and meticulously inspected. While I take great care to mend and restore pieces if necessary, please note that as secondhand garments, some signs of wear may be present, adding to their authentic charm. 
Surprise Bundle:
Like surprises? Each Surprise Bundle is carefully assembled, ensuring a beautiful mix of treasures that perfectly align with your personal style. Once I've carefully sourced each piece that I think you will love, I will message you with tracking information so you can know when to expect your bundle. 
Personal Styling:

Take charge of your fashion journey with our Personal Styling Bundle. I believe in the power of collaboration, which is why I provide you with multiple handpicked pieces to explore. After sharing your size, needs, and style preferences, I will curate a selection of vintage and secondhand garments just for you. I will then send over all the options via text or Instagram DM, where you have the final say in what gets chosen for your bundle from the comfort of your own home. This personalized approach ensures that every piece resonates with your unique style, empowering you to create a wardrobe that truly reflects your personality and fashion sensibility. Once you have chosen your final selections, I will message you with tracking information so you can know when to expect your bundle. This option has an added 10% styling fee tacked on for the added time of working one-on-one. The 10% fee will be collected via invoice before mailing out your bundle. 

Pricing Tier:
Disclaimer: This is an estimate of how many pieces you will receive. Each bundle is unique and not all are the same as it is tailored to your specific needs. For example, higher-quality pieces such as leather or designer items in your bundle, may result in fewer items being selected as a whole. Feel free to email elodievintagestudios@gmail.com if you have any questions at all or need help deciding which tier is right for you!
$150 = 4-5 items
$200 = 5-6 items 
$250 = 6-7 items 
$300 = 7-8 items
$350 = 8-9 items
$400 = 9-10 items
$450 = 10-11
$500 = 11-12
*For anything above $500 please email me so we can determine the right budget for you!*